Before reading please note I am not a writer. This is more for myself.
Landon Donovan doesn't know that at every key moment of my life up until now he has been right alongside me. He doesn't know me, and I've never met him, but his effect on my life and where I am now are completely dependent on the equilibrium points where our lives have met.
2008
I played soccer from the time I could walk. My parents used to take me to Metrostar games at Giants stadium, for my dad is was cheap, and it was easy to convince my mom when "Tony Meola is so handsome" - I still remember that moment as a 9 year old. It went like this:
Stud Muffin in the Flesh
Mom: Tony Meola is so handsome
Me: Mom you can't think anyone else is handsome but dad
Mom: I can think Tony Meola is handsome and still love your dad
It's kind of weird to remember that exact moment so many years gone. Even typing this up it doesn't seem like a worthy dialogue even to tell people about. I guess that's what soccer fandom is all about though; remembering moments.
The beginning of Beckham. Soccer could finally take off in the United States. I was a 16 year old in the phase of fitted hats and sub-woofers in my car. Oh god, I want to cringe just having the fleeting thought of how I used to act. Actually I don't cringe now, everything is a learning experience. In 2008 I was a Junior in High School. Every morning I would pull into the school parking lot blasting whatever cd I had burned from the night before. It was usually a mix I made from googling 'songs with best bass'.
I had a problem in 2008. Things weren't going that well for me. I had just gotten out of my first toxic relationship with a girl that tried to kill herself when I broke up with her. I broke up with her because she cheated on me. Yeah... from there I was damaged goods. With a year left until college I had nothing to do but watch TV and play World of Warcraft. I needed something to enlighten me in my downtime.


Soccer filled a void. A single game started it all. David Beckham came to Giant's Stadium in August of 2008, and decided to be a catalyst in one of the most ridiculous games in MLS history. I don't even know if I want to put it into words when there is a highlight reel. If I was to put it into words though I would tell you that 60,000 lucky spectators watched a 17 year old Jozy Altidore bag two goals and two assists on the way to beating the LA Beckhams 5-4.


But there was one person who I took notice of that game; a certain Landon Donovan, "hey didn't I see that guy score against Mexico in 2002 at the world cup?" Woah it is the same dude. So slowly but surely I read, and I studied MLS history, and Donovan's, and the Red Bulls and anything I could get my hands on. Soccer was a hell of a lot better way to spend my time than gearing up my warlock or blasting Pit Bull in a school parking lot. (and if you need to know how bad looked I was a 5'8 white kid with glasses and acne that would make you think my cheeks had permanent mosquito bites)


Landon Donovan seemed to be a real person. He wasn't a big personality, he didn't have Cobi Jones Hair, he didn't score from corners or have tattoos stemming from every spot on his skin. No, Landon was a real person, a guy that I could relate to.
From there I started to play soccer again, competing in travel leagues and tournaments like I was 10 again. Holy sugar were those were the days. I can't play Destiny or Diablo 3 for more than an hour these days without having to go to work or tend to my responsibilities. Landon Donovan continued to be a backseat driver in the David Beckham experiment; I continued to wisp away any part of who I was trying to be in my quest to find where I belonged and who I would become. When you think about who you used to be, and who you are now, it's scary to think all that sits between the two are single seconds within single days within single years. I'd like to think Landon feels the same way.


That 5-4 game started it all for me. My love for MLS, my infatuation with the USMNT,
and journey to become a productive member of society until that fateful October 10th night in Connecticut where he would take his final steps on the pitch for the United States of America.
2010
By 2010 it was the summer after my first year of college. Weird… it felt a lot like High School. I didn't become cool, and I most definitely was not having sex with as many girls as I was promised in movies. College was another weird time, a time when I had to decide who and why to stay friends with. This lesson is called the 'who you hang out with dictates who you are' principal.
By this time in my life I was crudely realizing that doing good things with an expectation of things in return did not make you a good person, it actually made you more of a douche than people who don't help at all. Nobody owes me anything, and once you have that thought the world gets a lot more cynical and negative. My roommate in college was my best friend from high school. He got hooked on pills, slept until 4pm every day and was catered to his every need by Mom and Dad. I tried to ignore him as best I could but my scholarly efforts were fleeting and I was forced to drop out of Rutgers and move back home. The only good thing I did in college was wake up every Saturday morning to watch Landon Donovan run the pitch for Everton.
I was to going to do something that anyone from a wealthy suburb's worst nightmare is: go to community college. I needed a friend from home to convince me I could make something of my life. And not in the convincing way where I needed them to tell me, I just needed someone to make me feel like I mattered and the efforts I was making made a difference. My friend Cassie was the perfect friend for this. One of those girls you find out years later liked you and you kick yourself for lacking the very thing you were trying to attain. Confidence and self-esteem was all I needed.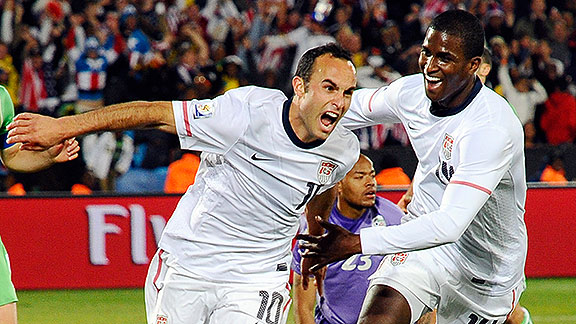 That was my face too
The summer of 2010 the first World Cup would be played in which I was an avid fan of the sport. I just needed someone to share the love of the game with. Cassie was home, had a part time job like me and time to spare. She was down to watch the games. The England game passed; a tie. The Slovenia game passed; a tie. The Algeria game came, USA needed to win. For 90 minutes I held my breath wanting a moment with someone close to me. Landon Donovan gave me that. From the moment Tim Howard threw that ball I could see the play developing. Landon famously slotted the final touch into the back of the net and got dog piled at the corner flag. What a moment that was.
"Happiness quite unshared can scarcely be called happiness; it has no taste."
2013
After a year in community college I packed my things in a box and moved to a small state school 45 minutes outside of Philadelphia in West Chester Pennsylvania. This was in 2012. I had one friend there and the first weekend of school was her birthday party. I went, and tried to make friends. What ended up happening is I got to my patented level of "let me tell you about Ron Paul drunk", and oh, I met my future wife.
Leah - an intelligent and beautiful girl who just wanted a warm body to make sure she made it safely to her dorm. She's that girl that makes you better. As my rarely-drunk mom told her, "I was worried about Jake and where he was going, but I have so much to thank you for". I wasn't going to let myself make the same "Cassie" mistake with this one.
A year later we were engaged, ready to get ourselves out of school and start a life with a golden retriever and 2 1/2 kids. I had a passion for something that seemed very odd to the normal person at that time. I enjoyed going to New York Red Bull games. The, new, York… red bulls, what is that? My college friends would always say to me. That's what the MLS was in 2012 compared to now… think about that. Anyways I slowly introduced Leah to these games, poking and prodding to see if my normal fandom outbursts, tirades, rants, and glee were acceptable. It only took two or three until she attended a game against the mighty Galaxy. Knowing little to nothing about soccer I will never forget the passion and vigor she got from yelling at the refs, analyzing every pass, coping with every close opportunity.
This was a moment led by Mr. Donovan. She stood out of her seat and cursed Landon Donovan alongside me. This is the best part about soccer, I respect Landon Donovan and love him when he's wearing red white and blue, but I could not hate a human being more than him when he sports a Galaxy jersey. Leah and I tag teamed the yelling and the cursing and the joy and the excitement. Leah and I had a moment, and we kept having moments.
Moments that will live on
I am just one person in the sea of people on earth, and if one person I never met could impact my life like Landon Donovan has, I can die having the slightest bit of hope that he changed other people as well. Hindsight is 20/20 and there is no doubt I have many things to work on still, but I don't even want to acknowledge where I'd be without him guiding. What Landon Donovan doesn't know is that for one person at least, he has forever made an irreplaceable impact on my life.You can love him and you can hate him, but your life is probably better because of him. I hate to say I have butterflies in my stomach just writing this last part… God knows I'll miss Landon Donovan.
Thank you for everything Landy-cakes.